In New York, he'll oversee a system with 12,000 inmates compared with Maine's 2,100 inmates.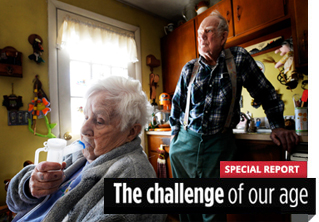 Arnold and Corinne Murray have spent years navigating a health care system that's not geared to the needs of the elderly. Their dizzying encounters with a string of doctors, hospitals and rehabilitation centers reflect the challenges of staying healthy in a state where there are not enough doctors who specialize in aging.
Peverley, who was treated for an irregular heartbeat last year, collapsed on the bench early in a game against Columbus and was rushed through a tunnel and stabilized.
March 11, 2014
Poetry review
e-Edition
The daily paper delivered to your computer or tablet!
Browse page by page, including stories and ads, with interactive features that make reading a breeze from wherever you are.
Already a print subscriber?
Connect your account for continued access. Not a subscriber? Become one.
Subscriptions start at only $8/month.
Blogs
Capitol Ticker
Gov. LePage taps Shawn Moody for Maine education boards
Maine, Naturally
St. John River forest: Sharing a big outdoor classroom
Today's Puzzles
Today's Crossword Puzzle

Today's Sudoku Puzzle

Maine's Top Jobs
Purchase Photos